With Freeview, you can watch, search & discover all of your favourite free to air TV shows from ABC, SBS, 7, 9 & 10 live or On Demand and never miss a thing at home or on the go!
On Demand

Free access to all of the available On Demand TV programs from ABC, SBS, 7, 9 & 10 in one place on your TV using your remote control or on the go using the Freeview app.

TV GUIDE

Find out what's on TV over the next seven days or go backwards up to 24 hours to easily catch something you've missed.

Browse & Search

Looking for a specific show or movie? Freeview makes it easy to find your favourite programs and discover new ones.

Favourites

Keep all your favourites in one place to jump back in or find latest episodes quicker.

Reminders

If there's a program you don't want to miss, simply set a reminder using our mobile app and we'll let you know when your program is about to start.

FREE!

That's right.. No fees, subscriptions, contracts or rentals... You can watch & stream all 30+ channels and over 50,000 episodes all for FREE!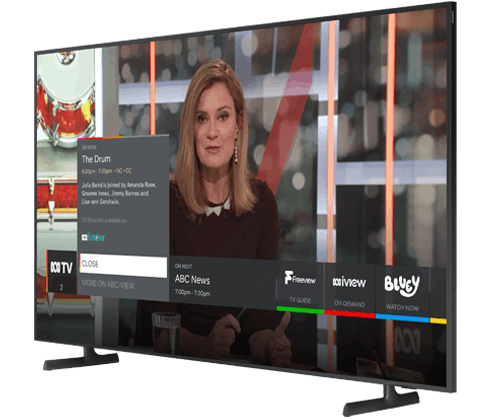 What Do I Need?
All you need is a Freeview certified TV connected to an aerial & the internet and you're ready to go!
Freeview is available on a wide range of manufacturer TVs, set-top-boxes (STB) and personal video recorders (PVR). Simply use your remote control to access Freeview and enjoy everything on offer. The manufacturers listed below have a wide range of products available that have been tested and approved by Freeview to ensure that they deliver a high quality & reliable service and provide the best possible viewing experience for the incredible array of Live & On Demand content from channels like ABC, SBS, 7, 9 & 10.
Check My Postcode
Please enter your postcode to discover the Freeview services in your region.